Samarkand | Shahi-Zinda
General Information
A set of mausoleums located to the south of Afrashiyab hill (*). Shahi-Zinda means "living king". The cousin of Islam's founder Muhammad, Qsam Ibn Abbas, who is believed to have first introduced Islam to Samarkand, is buried.
Furthermore, because the tombs of Timur's relatives are lined up, it is a sacred place among the many historic sites in Samarkand. The mausoleums were built from the 11th to the 19th centuries and consist mainly of more than 20 small scale mausoleums.
* A hilly area north of Samarkand, which was the center of the town of Samarkand from BC to the early 13th century. The town was destroyed by the Mongol empire of Genghis Khan, and is now a wilderness.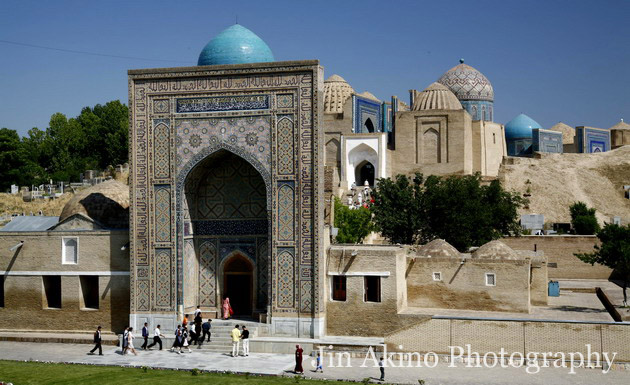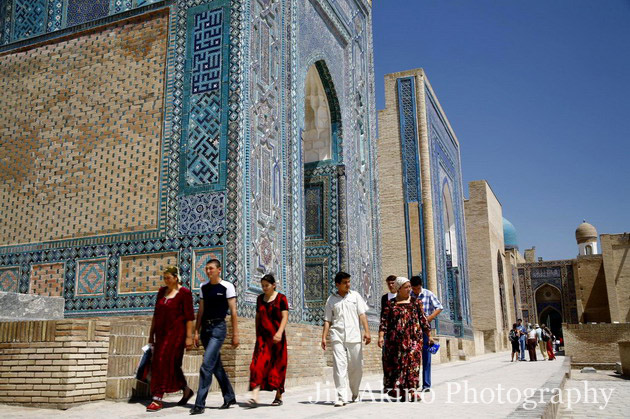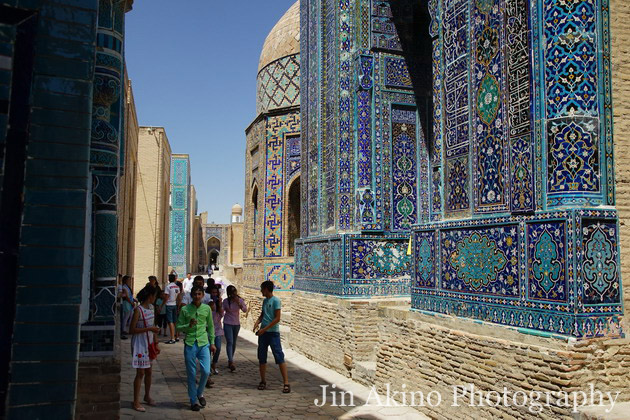 ---
Page in the photobook "TRADITIONAL MOMENT IN UZBEKISTAN"
P2

P4

P5

P6

P7

---
Jin Akino's shooting episode
Now Shahi-Zinda is also a crowded tourist attraction as one of the attractions of Samarkand, but the state of the 90's I first visited was a little different.
Looking at the pilgrims who tear by themselves while sipping on the blue tile wall, I realized that this Shahi-Zinda had a special presence among the many Samarkand buildings.
The photograph taken with a strong sense of such a sacred atmosphere is the photo on P2 of the photobook. The thunderheads blazing in front of my eyes seemed to climb from the holy place to the heavens.
Uzbekistan seems to have a strong image of cobalt blue sky, which has no clouds, but I was strongly aware of the clouds that I occasionally saw.
After this photo was taken, thunderheads became bigger, and the sky became dark so much that I could not think it was daytime, and it was hit by heavy rain.
---
Map of Samarkand
#1 in Map : Shahi-Zinda