Samarkand | Registan
General Information
Symbolic existence of tourist spots in Uzbekistan.Registan means "sand square".
Ulugbek Madrasa, built in the 15th century, Tilla Kali Madrasa, built in the 17th century, and Sher-Dor Madrasa, have three huge Madrasa (theological schools) lined up in a U-shape.
In the center of the square, big events such as the International Music Festival are also held.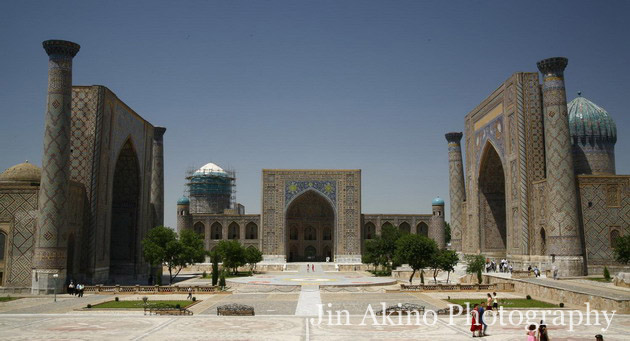 [Left] Ulugbek Madrasa
It was built in 1420 by the order of Urugubek, the grandson of King Timur, the founder of the Timur empire.
Urugubek himself, who was also a scholar, also taught and Ulugh Beg Madrasah became a center of culture and study in Central Asia.
It is said that at the time more than 100 students were living boarding lives.
[Center] Tilla Kali Madrasa
It was built in the 1860s of the Shaybanid Dynasty after the fall of the Timur empire.
Inside the blue dome on the left hand side is a mosque and the interior is covered with gilt.
As the name suggests, Tilla Kali means "covered with gilt".
[Right] Sher-Dor Madrasa
It was built in 1636. Sher-Dor means "the lion was drawn".
The unique theological school features lion and human face-like designs which are forbidden in Islamic architecture due to the interdiction of idolatry.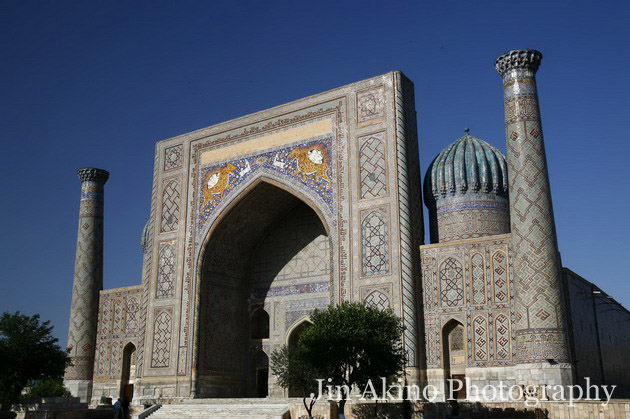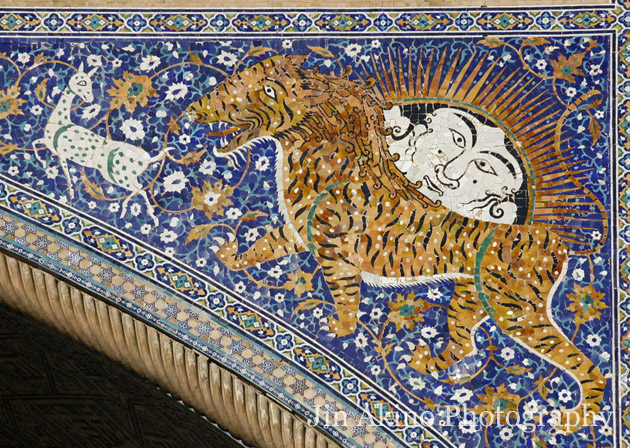 ---
Page in the photobook "TRADITIONAL MOMENT IN UZBEKISTAN"
P8-9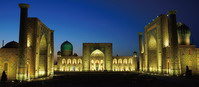 P10

P11

P12

P13

P14-15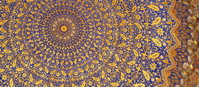 P16

P17

---
Jin Akino's shooting episode
Night lights can be said to be a very modern way of showing buildings.
While looking at the light-up many times, it seems to me that there is a massiveness of architecture different from the daytime, which is felt only in light-up.
---
Map of Samarkand
#2 in Map : Registan