Shakhrisabz | Koba Caravanserai
General Information
A building that used to be a caravan sarai (caravan lodging) is currently used as a restaurant.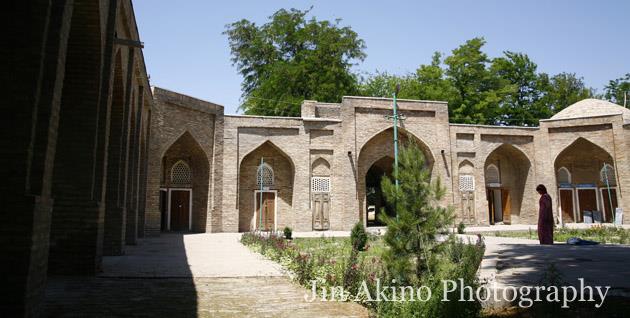 ---
Page in the photobook "TRADITIONAL MOMENT IN UZBEKISTAN"
P24

---
Jin Akino's shooting episode
Caravan Sarai is a lodging for merchants who once traveled in the desert.
The ruins of caravan sarai were left not only in Uzbekistan but also in various countries in the Silk Road area, but the current situation seems to be quite different depending on the location.
Caravan sarai which was in the town sometimes has become unknown even because of its redevelopment. Small rooms are just as easy to use, and some are used as craftworkers' studios and shops. Sometimes I see caravan sarai, which is still a hotel.
On the other hand, in the suburbs and in the desert, we see a number of caravan sarai, which have been abandoned and left like ruins.
This caravan sarai of Shakhrisabz is currently used as a restaurant, but the photo in my photobook was taken from the previous state.
Although it had been maintained, there were not a lot of people coming and going, and the quiet atmosphere made me feel like the lingering scent of old travelers.
The photo on P24 was taken with the idea that I wanted to symbolize such an atmosphere that remains in the place that was no longer used as a caravan sarai.
It was not a famous place in particular, but it was a favorite and impressive place fro me.
---
Map of Shakhrisabz
#1 in Map : Koba Caravanserai