Samarkand | Khoja Abdu Darun Mausoleum
General Information
The location is about 15 minutes walking from the Residen Square to the southeast.
The mosque next to the mausoleum is used by the locals and there are not many tourists.
It is a mausoleum dedicated to Islamic jurist Abd-al Mazeddina(9th century), built in the 12th century Seljuq period. It was rebuilt in the age of Ulugbek(15c). The mosque was built in the 19th century.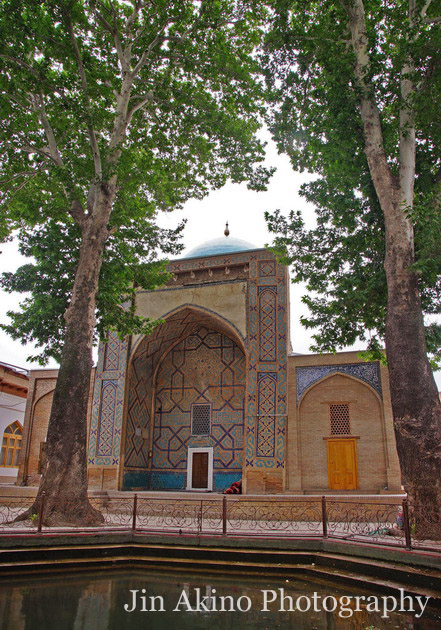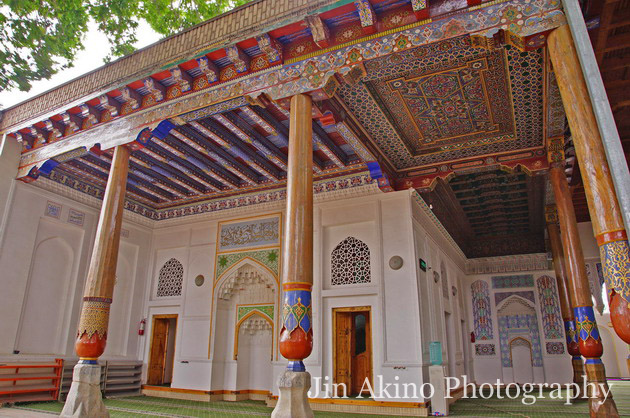 ---
Page in the photobook "TRADITIONAL MOMENT IN UZBEKISTAN"
P22

---
Jin Akino's shooting episode
The place that I had known for a long time and was at a distance to take a walk from the Registan Square, but for some reason I haven't visited until recently. When I visited for the first time, I thought it would have been better to visit such a comfortable and quite place much earlier.
Just by 15-minute walk from the Registan Square, which attracts tourists from all over the world, you can get into a very ordinary residential area in Samarkand.

Four huge trees that surround a small pond. Bird's sing in the silence. I really feel comfortable, sit on the bench for a long time without taking pictures, close my eyes and take a deep breath….
Then, the mosque's manager told me…"You seem to have a good camera, please take some photos of a mosque ceiling by all means. It's beautiful."

Samarkand is called "the city of blue", and it seems that the old buildings in Samarkand are covered with blue tiles, but the ceiling of this mosque is very green, red and yellow in addition to blue. This seems to be the influence of Chinese decoration. In fact, in Uzbekistan, if you go to the eastern area closer to China, you will see many colorful decorations with so many different colors besides blue.

This place is recommended if you want to stay away from the bustle of the city and spend a quiet time while feeling the local history.
---
Map of Samarkand
#5 in Map : Khoja Abdu Darun Mausoleum