Samarkand | Imam Al-Bukhari Mausoleum
General Information
The sacred place on the suburb of Samarkand, located about a 30-minute drive north of the city of Registan.
A mausoleum dedicated to an Islamic theologist Imam Al-Bukhari(9c).
A mausoleum and mosque originally built in the 16th century was renovated in 1998 and is now a new beautiful religious facility based on bright blue.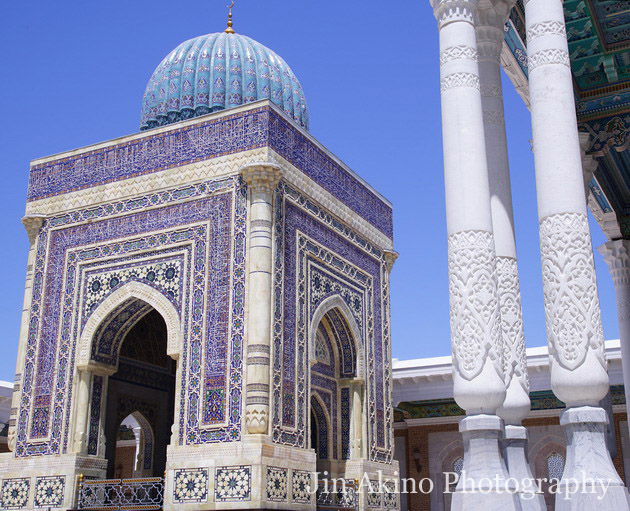 ---
Page in the photobook "TRADITIONAL MOMENT IN UZBEKISTAN"
P23

---
Jin Akino's shooting episode
Imam Al-Bukhari is a very famous among Muslims, and this mausoleum is considered a holy place for many believers even from outside of Uzbekistan.
Although the facilities are large, there are few tourists and there is stillness even if many people visit.
Unlike the blue color of the tiles found in historic sites like Registan, the building here has a bright impression such as light purple and blue-green color decorations, white columns and so on since it has been renovated and renewed.
After looking at the other historical sites in Samarkand, when looking at it as a historical building, the decoration here is too new and bright.
However, considering that many people still visit Imam Al-Bukhari Mausoleum as a working facility, it is understandable that it has been nicely renovated.
The photograph on P23 of my photobook is taken in the corridor part surrounded by such a bright atmosphere.
---
Map of Samarkand
#6 in Map : Imam Al-Bukhari Mausoleum